Housing Partnership Workgroup
Materials from May 2022 Meeting
Our May 2022 Housing Partnership Workgroup took place via Zoom on Wednesday, May 4, 2022.
Our amazing partners at Fair Housing Council of Oregon presented a training on Source of Income Discrimination, which affects households with rental vouchers and other forms of housing assistance.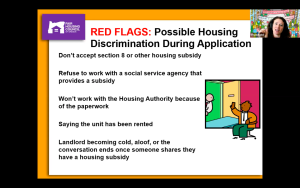 View a recording of the May HPW meeting on YouTube.
View the slides from NWPP's presentation on Racial Equity and Source of Income Discrimination.
View the slides from Fair Housing Council of Oregon's presentation on Source of Income Discrimination.
Additional resources from Fair Housing Council of Oregon:
To ensure you are notified about future events, please join the HPW mailing list.
Materials from December 2021 Meeting
Thank you to the over 110 housing and social service providers who attended the most recent HPW and brought their insights and questions to a lively discussion. Because of our wonderful community partners, we heard a presentation from Oregon Law Center on current tenant protections against COVID-related evictions, as well as information about Resolutions Northwest's new landlord-tenant mediation program.
Slides from NWPP's introduction and presentation on COVID and racial disparities in housing are at this link.
Slides from Resolutions Northwest's presentation on the landlord-tenant mediation program are at this link.
Slides from Oregon Law Center's presentation on COVID tenant protections are at this link.
A transcribed Q&A from the Oregon Law Center presentation (with updated information from the December special session) is at this link.
What is Housing Partnership Workgroup?
Working together as housing partners
NWPP convenes Housing Partnership Workgroup (HPW) for housing and social service providers throughout Multnomah County to meet, share resources and housing opportunities, and collaborate to support long-term housing stability for low-income tenants. The meeting is convened by Northwest Pilot Project and made possible through funding from the Joint Office of Homeless Services.
Making connections
Affordable building owners and property management companies in our area regularly attend HPW to share resources and opportunities, including Central City Concern, REACH, Affinity, NW Housing Alternatives, and Income Property Management.
Social service agencies and government organizations in the region that address the needs of families with children, youth, adults, and seniors participate in this collaboration. These include Home Forward, Transition Projects, Cascadia Behavioral Healthcare, Impact NW, YWCA, Human Solutions, JOIN, Luke-Dorf, Multnomah County ADVSD,  IRCO, Fair Housing Council of Oregon, Urban League of Portland, El Programa Hispano, and many more. Average attendance for HPW is 100+ attendees.
Trainings and resources
Presentation topics address areas of concern to housing and social service providers, including landlord-tenant law, how to make referrals to social service agencies, and emerging issues in housing policy. Speakers share expertise across a variety of housing topics to help attendees understand complex rules and systems and better provide services to populations with low incomes and experiencing homelessness or housing instability.
Questions?
Contact Marisa Espinoza, Policy and Systems Advocate at marisae@nwpilotproject.org
Join us!
Please join our mailing list below for updates on the next HPW meeting.
Join the Housing Partnership Workgroup mailing list.
By joining our mailing list you will receive notifications of upcoming meetings, agendas etc.